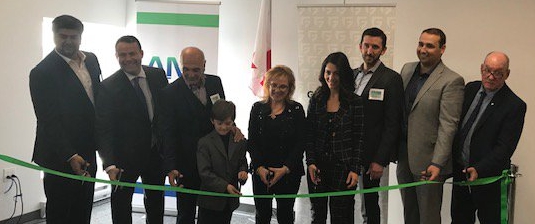 Mi'kmaq bands to be principal players in new, multi-million dollar cannabis operation
30 jobs in every First Nations community
Timothy Gillespie – In the midst of a national and provincial media frenzy surrounding the legalization of cannabis in Canada, Nova Scotia welcomes the newest entry in the cannabis "gold rush", as AtlantiCann Medical, Inc, (AMI) unveils its swanky, 48,000 square foot, state-of the-art facilities in Lower Sackville Monday afternoon. The thirteen First Nations bands represented by the Nova Scotia Assembly of Mi'kmaq Chiefs has an agreement in principal for a majority equity interest in the project.
$20-35 million production: 50+ jobs
The multi-million dollar operation is designed to produce sales of $20 million or more per year during its start-up period, growing to $35 million or more in phase two, which will use 68,000 square feet of space. The facility is expected to provide up to fifty full-time technical jobs at $25-30,000 per year, plus a smaller number of seniors positions with salaries up to $100,000 per year.
After an invitation in 2013 from Town Councilor Roy O'Donnell to locate its home base in Shelburne, original plans were set in gear to use the former Boy's School site in the adjoining Municipality, but conflicts with the municipal warden and council led AMI president Chistine Halef and her father – successful Halifax developer Besim Halef – to abandon those plans and re-locate to a business park property in Sackville already owned by the senior Halef's BANC Properties. BANC is also a primary partner in the cannabis venture.
Final details being ironed out
Although project partners have told SCT that "final details have not been ironed out", the Assembly of Mik'maq Chiefs have what several sources have described as "an agreement in principal" for a majority equity interest in AMI, based on a model employed in other cannabis ventures in Manitoba and Ontario. A news release from AMI Monday says that a letter of agreement ad memorandum of understanding has been signed by all parties. The financial deal with the Halefs, GrowForce/Mjardin and the thirteen Nova Scotia First Nations bands represented by the Assembly was put together by lawyer David Sharpe, through his firm, Bridging Finance Inc. Sharpe is an active member of the Mohawks of the Quinte Bay in Ontario.
"We are pleased to be able to work toward having the AMI and GrowForce teams as partners in the cannabis industry," said Chief Terrance Paul in the news release. "As we work toward creating better opportunities for the Mi'kmaq of Nova Scotia, it is clear how partnering with these two pillars in the industry would be beneficial for all parties."
390 new jobs in First Nations communities?
Chief Mike Sack of Sipekne'katik band and cannabis portfolio leader for the Assembly, told reporters that the deal with AMI and Growforce would also result in 30 people being employed at marijuana growing operations in every First Nations community in the province. From those bands represented by the Assembly, this would result in at least 390 new jobs.
Cannabis as the "new buffalo" for First Nations?
"First Nations participation in what will be a massive industry is like the new buffalo," Sharpe told SCT, referring to the role that massive herds of buffalo played in the survival and prosperity of First Nations bands in Canada prior to the twentieth century.  He says that at least twenty-five per cent of Bridging Finance funding projects involve First Nations communities.
Sharpe has executed cannabis-related financing ventures for the Pequis First Nation in Manitoba and, according to a news release from Pequis, has created a joint venture to establish a partnership in a cross-Canada expansion.
Economic reconciliation
He told SCT that First Nations participation in what is certain to be a huge cannabis industry is part of seeing that First Nations communities are given free and fair access to capital resources as part of what he defines as "economic reconciliation."
Millbrook First Nation
One of the Assembly partners is the Millbrook Band, led by chief Robert Gload, who told SCT in an interview that Millbrook is also partnering with Zenabis Corporation, in cannabis projects in Stellarton, New Brunswick and British Columbia. BC-based Zenabis is seen as a Canadian "giant" in the industry and has also developed partnerships during the past year to produce edible cannabis products, as well as cannabis-infused beverages.
Four years in the making
AMI was originally conceived by Christine Halef as a provider of medical cannabis, but will benefit greatly from the recent legalization decision by the Liberal government. The four-year process of negotiating with Health Canada and planning the impressive facility was lead for four years by AMI vice president and economic development specialist Adelard (Ed) Cayer, whose equity interest in the firm was purchased by BANC in June of this year. Cayer remains as a vice president and is advising the firm during the start-up period.
GrowForce/Mjardin
In June, AMI was negotiating a partnership with Growforce, Inc, an international "sister company" to USA-based Mjardin, which claims to be North America's largest producer of legal cannabis, resulting in more than 125,000 kilos of "finished product" to date. Both GrowForce and Mjardin are headed by Rishi Gautam, whose entry into the world of commercial cannabis began as an investor in businesses in Colorado, which grew out of the legalization of cannabis there.
Canadian cannabis platform
GrowForce describes itself as a "Canadian-based Cannabis platform" operating within Health Canada's Access to Cannabis for Medical Purposes Regulations (ACMPR) and now within the legal recreational cannabis regime. The company owns a majority interest in flagship Cannabis facilities operated through ACMPR, and through Mjardine,  provides turnkey operations, proprietary software and training, and project financing.
Mjardin, according to Gautam,  will be contracted to "manage the assets" of AMI, including overseeing cultivation, production and retail of the operation. Gautam has announced that Mjardin is expected to go public this fall.
Still waiting for govt approvals
AMI is awaiting approval of a license to cultivate and sell from Health Canada, which is the next step in the approval process, according to Christine Halef, who says that the firm has submitted their "evidence package" to the government and expects to receive an approval in a short time.
Mjardin University
Halef says she is very pleased with the "top-notch" facility her firm has built and is "quite excited" to be part of the production of a safe cannabis product, which she says is likely to eliminate at least part of the black market sales of marijuana. She says she is especially impressed with the online training module developed by Mjardin – and named Mjardin University. "Everyone who works at AMI will have access to the best training available," she added.
"This partnership enables AMI to leverage GrowForce's decade-long experience in cannabis cultivation, and will ultimately help the Mi'kmaq of Nova Scotia enter into this industry.  Together, we will bring premium medical and adult-use cannabis products to the market and advance the use of legally produced medicinal marijuana products to help patients cope with their ailments."
Full article here